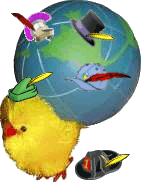 Premium Member Theme
Premium members, quite literally, keep Atlas Quest running. I can't thank them enough—without them, Atlas Quest would not be what it is today.

One of the perks of premium membership is the proverbial feather in your cap, a simple way to recognize the folks who keep this site running. I imagined a Robin Hood type of hat, with a big red feather sticking out of it. For years, that was the mark of the premium member.
The History of Hats

For a day or two, that original premium member hat was replaced by a vacuum with a feather sticking out of it. What crazy horseplay was that? One member on the message boards said they thought the hat was a vacuum cleaner, and couldn't figure out why. We got a good laugh out of it, but I couldn't resist actually turning it into a vacuum cleaner! But it was a temporary change, just for a day or two so people could laugh, then the old hat went back up.
You can blame Cyclonic for the variety of hats available today. He didn't much care for the original Robin Hood hat and wanted to upload his own image. I didn't like the idea of people uploading their own images—the complete freedom to use any icon one wanted could open all sorts of abuse. What if people uploaded an image that was offensive or inappropriate? What if someone uploaded icons of existing icons to make it look like they have more finds or plants than they really do? What if people keep asking over and over, "What's this icon for?" on the message boards, not realizing that premium members can upload an icon of their own choosing?
So I shot down that idea, but Cyclonic was persistent, suggesting that at least they should be allowed to choose a hat, and I thought, "Yeah, that might be doable...."
A month or two later, I started developing all sorts of new hats, all with the big red feather sticking out of it. Although the hat could change, but I felt confident that everyone would still be able to identify the icon as that of a premium member. It's still a hat, and it still had a red feather in it.

I also wanted to create new 'official' premium member hat. I always felt the original hat was large and clunky. The icon shouldn't be so wide, and it needed more of a 3-D look than the flat 2-D look it had before.
Nobody realized what I was doing at the time, but I uploaded the functionality to switch hats, then mucked with the database to switch everyone to the new premium member hat. I was testing the feature, but everyone thought I was 'just' changing the icon.
Some people liked the new icon. Some people didn't. No surprise there—that happens every time an icon changes, but with the new hat-switching feature, I figured, hey, I could still offer the old version for those that like it. But I only had three hats to offer—the old premium member hat, the new premium member hat, and a vacuum hat. I needed more hats before I told people they could change hats!
And I started creating hats like crazy. Amanda and I made a long list of possible hat choices: police hat, fireman hat, nurse hat, viking hat, chef hat, baseball cap, and more. I created about two dozen hat options, and finally, I was ready to take the feature public.
But I didn't make a big announcement. No, I was subtle. I changed my hat to the viking hat. It didn't take long for people to start asking about the hat. Most people seemed to think I put in a hack so I could have a different hat, but they assumed it was just for me. They didn't realize that everyone could pick a hat. Not yet....
Wassamatta_u, who knew about the changes I was making, put on a bowler hat, if I remember correctly. That's when more eyebrows started popping up. Two new and different hats? When someone joked about wanting to wear a certain kind of hat, and I happened to already have created that version of hat, I slapped it on the account and welcomed him to the club.
The fun had begun..... I finally announced the new feature, that premium members can choose one of about two dozen hat options I had created. Whoever could guess the other hat options I had available would get them, leading to one of the busiest days ever on the message boards with over a thousand posts, mostly guessing hat types. It took the whole day to guess the last hat, at which point I finally filled everyone in on where the secret page was to change the hat types. Now all premium members could choose a hat. They started suggesting additional hat types, and even made some of their own, increasing the options even further during those early days.

JerseyTrailblazers first suggested a yellow feather for lifetime members. I had been considering a lifetime membership option already. I was having issues with PayPal's auto-renew option, and it would be nice to cut out at least some of the personal checks that were mailed every year. Sign up for life and I'd never have to help a member with PayPal or deposit their checks ever again. But I hadn't considered changing the color of the feather before, but a yellow feather intrigued me. I liked the idea.
But after I created the assortment of hat options, I chucked the yellow feather idea. The main reason—I didn't want to create identical icons for all of the hats except with a yellow feather instead of red. I did create the premium member icon with a yellow feather to see how it looked, and used it so it was clear that the button for lifetime membership was different from the annual membership.
When the first few lifetime members signed up, however, they wanted to know where the yellow feathered hat was, and I didn't have one. So I added the one hat with the yellow feather to the list of options, and made it only available for lifers.
While stuck on an Amtrak train months later without any Internet connection, I started creating duplicate icons with yellow feathers. I didn't need much quiet thinking time to work on the icons, and I didn't have much quiet thinking time on the train. And thus, the yellow-feathered collection of hats was born.
For the sharp-eyed folks out there, you might notice that I referred to 'lifetime' memberships, but when you sign up, it actually reads '100 year' membership. Why the difference? In theory, it's meant to be a lifetime membership, but the database wants an actual date. It didn't really matter what the date was—it just wanted an expiration date. I could have hacked it to not require an expiration date, but it was easier just to add a date so far in the future that few people would likely outlive it. A hundred years seemed like a nice, round number, and I was mildly amused to think of expiration dates in the year 2108 and beyond. So in the database, it's set up—literally—as a hundred year membership. In practice, it's a lifetime membership.
So I decided to fill this theme up full of premium member hats. They're fun, they're colorful, and why not? In fact, the theme's primary colors are intended to resemble that original premium member hat. The green background is the green Robin Hood hat, and the tan stripe that makes up the title bar is the tan strip around the original Robin Hood hat. (The new Robin Hood hat doesn't have the tan.)
Free Listing Day
Like I said before, I can't thank premium members enough for supporting Atlas Quest. Quite literally, they keep this site up and running. Occasionally, I've received messages from folks wishing they could afford a premium membership, but they couldn't and felt bad about that. It's not even that they wanted any of the premium member benefits, but rather they use Atlas Quest. A lot. It has given them so much entertainment and joy, and they wanted to support this website financially. They just couldn't affort it. I understand—I've been a poor, starving student. I've been unemployed for three consecutive years with no income and understood the feeling. Nobody should ever have to apologize because they can't afford a premium membership—and they shouldn't feel bad for not 'supporting' Atlas Quest because that's just not true.
They've supported Atlas Quest in other ways. They've planted boxes for others to find and enjoy. They've helped newbies on the message boards so I could work on new features instead of answering the same questions over and over again. They've spread word of letterboxing and Atlas Quest. They may not have made a direct financial contribution to Atlas Quest, but they've still supported the website, and I appreciate that.
And it was with that thought that I first implemented 'Free Listing Day.' One of the perks of premium membership is the ability to record finds on boxes that aren't listed on Atlas Quest. Premium Members can set up a complete and full listing of every letterbox they have ever found for their logbooks. So I decided that for one day only, I would give everyone on the site this perk. And several times each year, I'd set up a 'free listing day' so anyone and everyone could record finds on unlisted boxes as a thank you for supporting Atlas Quest in non-financial ways.
I used to announce free listing days on my blog, but often times a free listing day would come and go and I'd completely forgot to announce it. But I have a new idea—instead of announcing free listing days on my blog, I can announce it with a new theme. When the premium member theme is up, it's a free listing day. It has to be the default theme on Atlas Quest—setting the theme in your preferences won't do anything special. ;o)
To record a find on an unlisted box, use the Record Find link under the Letterboxes menubar option. Type in the name of the box. The first section will show matches on boxes that are listed on Atlas Quest. If the box isn't there, scroll down past it for a list of matches on boxes that are not listed on Atlas Quest. If you see the box, click it. If not, create a new entry. Premium members will always be able to add finds on unlisted boxes. If you aren't a premium member, the option won't be there—except right now when this theme is up!
Thank You!
And to all members on this website, whether you contribute financially or not, whether you plant boxes or find boxes, whether you help others on the message boards, or just cheer up someone's day—you all have made Atlas Quest the amazing community it is today. And for that, thank you.
If you can afford it and want to sign up as a premium member, check out the Premium Memberships page. It lists all of the benefits available to premium members and how to subscribe. Don't feel obligated, however—there are plenty of other ways you can contribute to Atlas Quest!
The Red Feathered Hats







































































The Yellow Feathered Hats