Bookmaking 101 Tutorials
Letterboxers, by their very nature, are a crafty lot—carving stamps, stamping with multiple colors or creating elaborate clues for their boxes—so it's not really surprising that a growing number of letterboxers are now creating their own logbooks.
Why would you want to make your own logbook? Several reasons: To personalize a letterbox, save money or even just for the sheer enjoyment of making one. Whatever your reason, this tutorial will get you started with some of the more popular bookmaking techniques.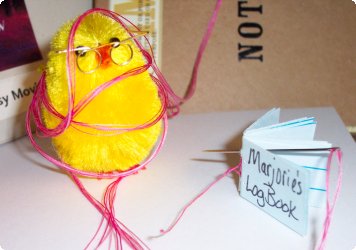 This advanced binding technique allows you to create logbooks that look and feel like an old book from the library. It may not be fast, and it may not be easy, but they are likely the most classy logbooks you'll find.

Learn how to create a darned cool logbook with the Zutter Bind-It-All Machine. Use it to create fast, easy, professional-looking logbooks.