Claude Monet Theme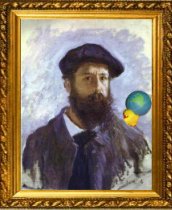 Claude Monet, also known as Oscar Claude Monet or Claude Oscar Monet (14 November 1840 – 5 December 1926), was a founder of French impressionist painting, and the most consistent and prolific practitioner of the movement's philosophy of expressing one's perceptions before nature, especially as applied to plein-air landscape painting. The term Impressionism is derived from the title of his painting Impression, Sunrise.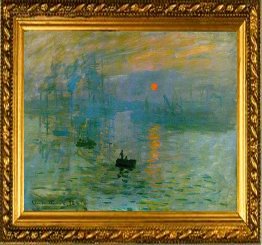 Monet died of lung cancer on 5 December 1926 at the age of 86 and is buried in the Giverny church cemetery. Monet had insisted that the occasion be simple; thus only about fifty people attended the ceremony.
His famous home, garden and waterlily pond were bequeathed by his son Michel, his only heir, to the French Academy of Fine Arts (part of the Institut de France) in 1966. Through the Fondation Claude Monet, the house and gardens were opened for visit in 1980, following restoration. In addition to souvenirs of Monet and other objects of his life, the house contains his collection of Japanese woodcut prints. The house is one of the two main attractions of Giverny, which hosts tourists from all over the world.
In 2004, London, The Parliament, and Effects of Sun in the Fog, sold for $20.1 million. In 2006, the journal Proceedings of the Royal Society published a paper providing evidence that these were painted in situ at St Thomas' Hospital over the river Thames.
Cliffs near Dieppe has been stolen on two separate occasions. Once in 1998 (in which the museum's curator was convicted of the theft and jailed for five years along with two accomplices) and most recently in August 2007. It was recovered in June 2008.
Monet's Le Pont du chemin de fer à Argenteuil, an 1873 painting of a railway bridge spanning the Seine near Paris, was bought by an anonymous telephone bidder for a record $41.4 million at Christie's auction in New York on 6 May 2008. Le bassin aux nymphéas (from the water lilies series) sold at Christie's 24 June 2008 for £36,500,000 ($71,892,376.34) (hammer price) or £40,921,250 ($80,451,178) with fees, setting a new auction record for the artist.