Gingerbread House: 2001
Each year, I like to challenge myself with a gingerbread house. Follow along with the construction of this 2001 gingerbread house.
---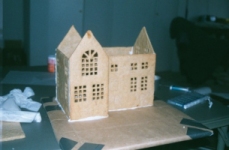 Putting Up the Walls
Half the work is just getting the gingerbread made—just getting the walls up took me three days of work!
---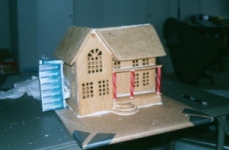 Roofing Complete!
Notice that I'm using a stack of chewing gum to keep the one side of the roof from sliding off! Thanks to Scott for helping me get the rest of the roof on. You need at least four hands to get it on, and I'm a couple short.
---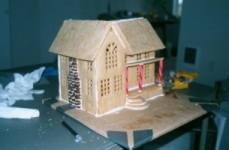 A Chimney For Those Cold, Winter Nights
The chimney is made of chocolate caramel.
---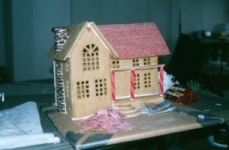 The Leaky Roof Needs Shingles
The roof shingles are made of Big Red chewing gum. You can see a pile of it in front of the house. Looks like a regular construction zone, doesn't it?
If you look very closely in this picture and the next one, you'll see a small green hand as if it was trying to get the gingerbread house. That's a leftover Halloween decoration. A candy bowl, to be exact, that tries to grab you and gives off a diabolical laughter whenever someone reaches for a piece of candy.
---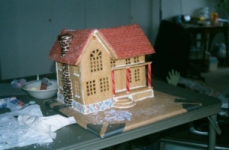 Solidifying the Foundation
Did you notice how the shingles turned more red by the next day? This is not an optical illusion. I think the humidity was a contributing factor. I liked the effect, though, so I'm not complaining! The foundation of the house is made of Necco candy waffers. Notice the pile of Necco candy waffers in place of the pile of Big Red sticks? Now I understand why construction zones have big piles of junk all over the place! =)
---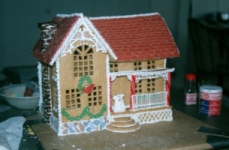 Decorating the House
The dog and rails are pure icing. Piped them out onto parchment paper and waited for them to dry before trying to stick them onto the house.
---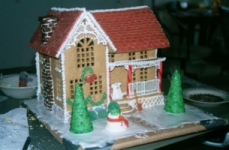 Landscaping the Yard
The finished house! The trees are upside-down sugar cones. The snowman is made of icing that I loaded up with powdered sugar so it could be formed into any shape I needed. The shovel is a piece of that Big Red gum with a pretzel stick glued to it using icing.
---
©2022 Ryan Carpenter