MisterArt.com
Use MisterArt.com for all your letterboxing needs! They stock thousands of items at very competitive prices. Use the search box below to search for a specific product, or select one of the products below that many letterboxers use and swear by. And every purchase made through these links will help support Atlas Quest!
Staedtler Mastercarve Carving Blocks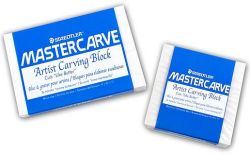 Mastercarve is considered the premier carving block of choice for truly spectacular stamp carvings. It's available in sizes so thick that they work well even without being mounted, and can even be carved on both sides or the edges! Available in the following sizes:
2 1/2 in. x 5 in. x 3/4 in. block
4 in. x 4 in. x 1/2 in. block
4 in. x 6 in. x 3/4 in. block
Speedball Speedy-Carve Carving Blocks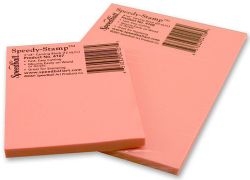 Also known as the "pink stuff", Speedy Carve (formerally known as Speedy Stamp) is a popular but cheaper alternative to Mastercarve. The carving blocks are thinner, but this can often be an advantage for microboxes where space is slim, if you'll pardon the pun. =) Available in the following sizes:
3 in. x 4 in. block
4 in. x 6 in. block
Speedball Stamp Carving Kits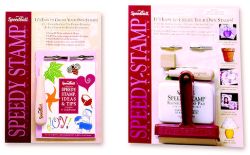 Speedball puts out some nice stamp carving kits that contains everything you need to begin carving. The basic kit is more than sufficient to start carving, so don't feel pressured to go for the deluxe version which also contains a brayer, rainbow ink pad, and mounting block, though not as much carving block to carve with.
Ink It and Color It Pigment Ink Pads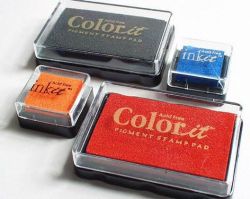 The 1 x 1 inch ink pads are great for letterboxing—you can carry many colors easily without taking up much room in your pack. The larger ink pads can be used for home stamping or for your signature stamp if it's a color you use often. These ink pads are acid-free.
Speedball Linoleum Cutters with Handle Assortments
These linoleum cutters work great for carving your own stamps! These sets come with all the carving tips you'll need to create miniature works of art.
Staedtler Mastercarve Tool Set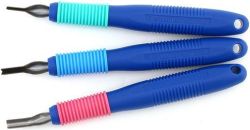 Staedtler Mastercarve has recently come out with their own carving tools. These tools are sold in sets of three with the blades permanently attached. The blade sizes are the three most useful for carving stamps (1V, 2V, and 5U) with color-coded handles to make finding the blade size you want quick and easy.
Speedball Handle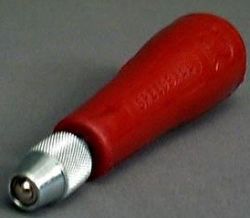 If you already have the tips but want to upgrade the wooden handle that comes with the kits, you can buy this plastic handle separately. The handle has a hand-adjusted screw chuck which make them easy to fit and change blades, and the end comes off where you can store tips for quick and easy access.
Speedball Linoleum Cutters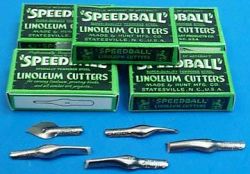 If you need to replace some of your Speedball cutting nibs, you can purchase replacements here! They're sold in packs of two or—for those particularly intrepid carvers—boxes of twelve!
X-acto Pin Vise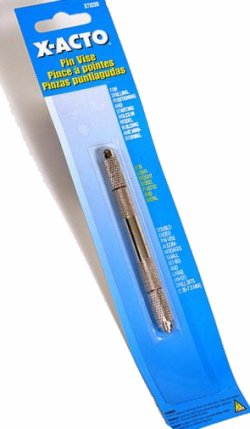 Use a pin vise to hold needles for carving, drill holes in soda-can stoves, and probably some other useful things as well!
Le Plume II Marker Sets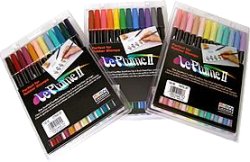 Great for rubber stamp crafts. Use LePlume II after stamping an outline on the paper to color or highlight the image. 12 fine tip colors per set.
Primary Set includes: Red, Pink, Orange, Yellow, Light Green, Green, Light Blue, Blue, Violet, Gray, Brown, and Black.
Pastel Set includes: Rose Pink, Dusty Pink, Bubblegum Pink, Rosewood, Pale Pink, Lemon Yellow, Daffodil Yellow, Peppermint, Pale Green, Blue Gray, Salvia Blue, and Wisteria.
Victorian Set includes: Dark Brown, Cherry, Plum, Wine, Ochre, Pale Orange, Citrus Yellow, Aqua Gray, Spring Green, Peacock Green, Pine Green, and Prussian Blue.
Marvy Markers Set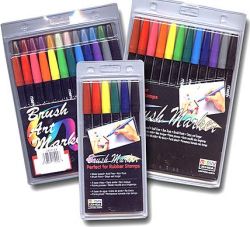 Marvy Brush Art Markers are acid free and non-toxic and are ideal for rubber stamping. Comes in sets of six, twelve, or twenty-four!