Project X: Letterboxing Calendar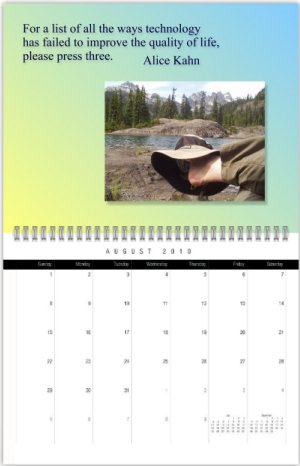 Project X was the codename for the first letterboxing calendar. Only premium members were informed of its upcoming creation, and only premium members could submit photos for consideration in the calendar. Those days are past, but the letterboxing calendar continues. Do you have photos you think people would like to look at for a month at a time? Do you think that special photo you took would look great in a calendar? If so, submit it for inclusion.
Update: I used to give out a free calendar for each person who's photo I used. For the 2015 calendar, I will be discontinuing this practice. As the cost of the calendar continues to increase and the number of people buying them decreases, it's putting me in the hole. I'll send something special to those whose photos I use, although I haven't figured out what as of yet. A patch? A book? A few months for a free premium membership? I don't know yet.... but I'll do something for those whose photos are selected. It just won't be a free calendar anymore. Sorry about that, but I just can't afford it anymore!
Here's some thoughts to consider about your submissions:
Each picture needs to be visually pleasing to the eye. People will have to look at these pictures for a month at a time, so they have to be nice-looking pictures!
The pictures, ideally, would be generic enough so even non-letterboxers can enjoy the calendar if they get it as a gift.
Pictures will need to be of a high resolution in order to blow up well. If there is a setting on your digital camera to store a "high quality" image rather than the more typical (and compressed) jpg image, use the high quality version. Even the cheapest of digital cameras are capable of perfectly usable images! But still, the higher the resolution, the better.
Photos should be at least 1600 x 1200 pixels in size or larger. Or 1200 x 1600 pixels if you prefer the portrait look on your photos. (If you try to submit something smaller than that, Atlas Quest will tell you.)
Do not add any text or comments to the photo. I will do that to all of the images so it's consistent from month to month.
This isn't a calendar of people—it's a calendar of places. While people in the pictures can be used to show dimensions or sizes, if they distract from the background, I probably won't use them.
Photos that are clues, all else being equal, are preferred to photos that are not clues. And photos that are located near letterboxes, all else being equal, are preferred over photos that are taken far away from the nearest boxes.
Calendars need a total of 12 photos—one for each month—and either a single photo or a collage of runner-up photos will be used for the cover.
I'd like the widest variety of contributing letterboxers and places possible. So I'd prefer to use 13 different people from 13 different areas around the country and even around the world—but if I only receive good stuff from five people, I'll use stuff from those five more than once.
Think about the variety of seasons represented for the various months. If you have themed for a specific month, the chances of my using it are greatly increased. Check out the photos from the 2006 calendar as examples. January has lots of snow. April has lots of green. September has autumn leaves. October has pumpkins.
If your camera adds the date in those ugly orange letters at the bottom corner of your photos—turn that feature off.
All submissions are due no later than July 31, 2016.
So what are you waiting for? Get those snow shots before the snow melts! Get those wildflower displays before the spring peak ends! Start keeping your eyes open for sunsets, interesting angles, and alpenglow.
Happy trails!
— Ryan