Found a letterbox by accident?
Need to contact a member?
Use our
Contact Member
page.
Not using a mobile device? Try the
standard view
of AQ meant for full-featured browsers.
What Else Is New?

Message
Boards

Upcoming
Events

Recent
Announcements
Green Tortuga finally wrote his first book! Read all about his adventures along the West Coast Trail and Juan de Fuca Trail! Or get the Kindle Edition of
A Tale of Two Trails
for just 99 cents!
New to Letterboxing?

Letterboxing is an intriguing pastime combining artistic ability with "treasure-hunts" in parks, forests, and cities around the world. Participants seek out hidden letterboxes by cracking codes and following clues. The prize: an image from a miniature piece of art known as a rubber stamp—usually a unique, hand-carved creation.
Letterboxers stamp their discoveries in a personal journal, then use their own rubber stamp, called a signature stamp, to stamp into the letterbox's logbook.
Atlas Quest started as a set of tools for letterboxers, but has grown into a community of letterboxers. Pull up a chair, meet new friends, and dig into letterboxing.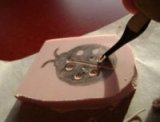 Also consider picking up a copy of The Letterboxer's Companion by Randy Hall—everything you need to know to get started letterboxing and then some!